Turtle design (current)
The wooden turtle drifter was originally designed with "cold-stunned" sea turtles in mind.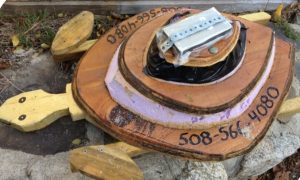 Each year as winter approaches many sea turtles in Cape Cod Bay, for example, begin to head south for warmer water, but end up being trapped.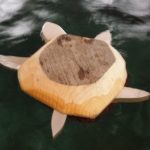 Before long they become stunned by the bay's cold water, and their fate, whether that be washing ashore or leaving the bay to warmer waters, depends on Cape Cod Bay's ocean currents, wind, and waves. The turtle drifter was designed to mimic cold-stunned turtles that are moved by these forces.
To read more about our research, click here.
Part 1: Build
The turtle drifters are built with wood. [For detailed instructions, click here. – in development]
Part 2: Deploy
Turtle drifters are part of a project in Cape Cod so please contact us before deployment for optimal results.
Part 3: Track
All  tracks are available at: https://studentdrifters.org/tracks where you should see "turtle" cases listed in the drifter "type" column.
A note on design
While the turtle drifter is technically a surface drifter, the fact that a large portion of it protrudes from the water makes it's path greatly wind and wave affected. With that said if you are interested in a drifter that more accurately follows ocean surface currents, the surface drifter may be a better option.
Experimentation with design is still taking place to modify turtles to be self-righting. During the summer of 2015, Tim Anderson (West Washington State University) began a project to better understand the water following qualities of the turtle drifter.